Competition Corner: July 2018
A. Current Affairs
1. Name the world's oldest leader sworn in as Malaysia's Prime Minister.
2. Who is the Chief Minister of Karnataka?
3. Name the recently appointed RBI Deputy Governor.
4. Name the recently-crowned Miss Queen of India 2018.

5. Name the Indian-American boy who won the Scripps National Spelling Bee 2018.
6. Name the recently-expired American author known as the Picasso of American Literature.
7. Name the female tennis player who won the 2018 Madrid Open title.
B. General Knowledge
1. Which religion has 24 great teachers called Tirthankaras?
a. Hinduism
b. Jainism
c. Sikhism
d. Buddhism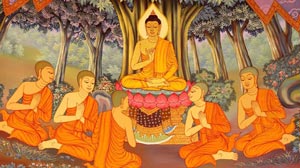 2. Gautam Buddha preached his first sermon at ______.
a. Prayag
b. Lumbini
c. Gaya
d. Sarnath
3. Who was the last Mauryan ruler?
a. Bindusar
b. Chandra Gupta Maurya
c. Devavarman
d. Brihadratha
4. The script of the Indus Valley civilization is ______.
a. Undeciphered
b. Sanskrit
c. Persian
d. Dravidian
5. The Harappans did not know the use of ______.
a. Gold
b. Silver
c. Iron
d. Bronze
6. Which of the following places was the capital of Satvahanas?
a. Pratisthan
b. Nagajuna Konda
c. Shakai
d. Patliputra
7. Who was the renowned Jain Acharya who was greatly honoured by Akbar?
a. Chandraprabha Suri
b. Hiravijay Suri
c. Pushpadanta
d. Yasobhadra
C. Logic & Reasoning
1. Walking at 3/4th of his usual speed, a man reaches his office 20 minutes late. What is the time taken by him to reach the office at his usual speed?
a. 80 minutes
b. 70 minutes
c. 60 minutes
d. 50 minutes
2. A and B run a 1 km race. A gives B a start of 50 m and still beats him by 15 seconds. If A runs at 8 km/hour, what is the speed of B?
a. 4.4 km/h
b. 5.4 km/h
c. 6.4 km/h
d. 7.4 km/h
3. In a race of 1 km, A can beat B by 50 m and B can beat C by 50 m. With how much distance can A beat C in a 0.5 km race?
a. 42 m
b. 43 m
c. 44 m
d. 45 m
4. In an office, 40% of the employees are men and the rest women. Half of the employees are tall and half short. If 10% of the employees are men and short, and 40 employees are women and tall, what is the number of tall men employees?
a. 60
b. 50
c. 40
d. 30
D. One word substitutions
State of not being able – Inability
Not able to be reached – Inaccessible
Not able to express oneself – Inarticulate
Unwilling to be host to others – Inhospitable
Not to be endured – Intolerable
Can never be satisfied – Insatiable
Cannot be seen – Invisible
Latest posts by Prof Dr John Mathews
(see all)