JANVI MANCHANDA
F
ashion is not just for women. In India, men's fashion is not a big thing, mainly because most guys aren't picky when it comes to clothes. It's time to open up to the world of fashion and experiment a bit. The men's section of every clothing store is full of trends that aren't played with in ages but this is the era of fashion for men. Be picky. Take some time to dress up well because women love well-dressed guys. And dress well not just for the ladies but also for yourself. A well-dressed man makes a good impression on anybody and everybody.
Here's a list of trends that guys definitely need to play with.
1. Sweatpants
Also known as comfort… level 100! The only time I see guys wearing sweatpants is when they go to the gym but why not wear them out, too? When you go to chill with your bros, dig out those sweatpants and pair them with a collar tee or a shirt instead of your boring old t-shirts. Step out and look casual but not!
2. Low crotch pants
Yes, low crotch pants! If Justin Bieber and Honey Singh can wear them, can't you? Wear them when you step out to party, work-out, casual dates, or even formal occasions. Pair them with a tee and add a jacket or with a collar tee or a long neck t-shirt. For formal occasions you can pair them with a shirt and waistcoat or a blazer and add a brightly-coloured bow tie!
3. Sporty jacket
Got a date? Going out partying? Pick something from the sporty luxe trend. Add a sporty jacket and you'll look cooler. A layer makes your plain outfit look even better when you step out for a special occasion. It's simple yet classy. Sports luxe is in vogue for men and women this season, so why not?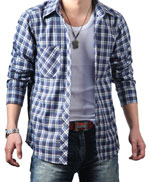 4. Plaid shirt
Boys, you need to step out of your comfort zone and pick up that plaid shirt and put it on! Plaid shirts are not only for women. Pick an amazing plaid shirt and pair it with your boring jeans and tee. Plaid shirts are classic and loved by everyone. So, don't shy away from them.
5. Printed shirts
No, I'm not pushing it but you really have to stop making safe choices and pick a printed shirt and sport it with confidence. Confidence is a huge part of fashion so, wear a light coloured floral or tribal printed shirt with confidence and trust me you will be able to carry it off. Experimenting is always a good idea when it comes to fashion.
Read the full article by subscribing to the print magazine or the digital edition.
Latest posts by Janvi Manchanda
(see all)