"Mera Bharat Mahan!": Give India your best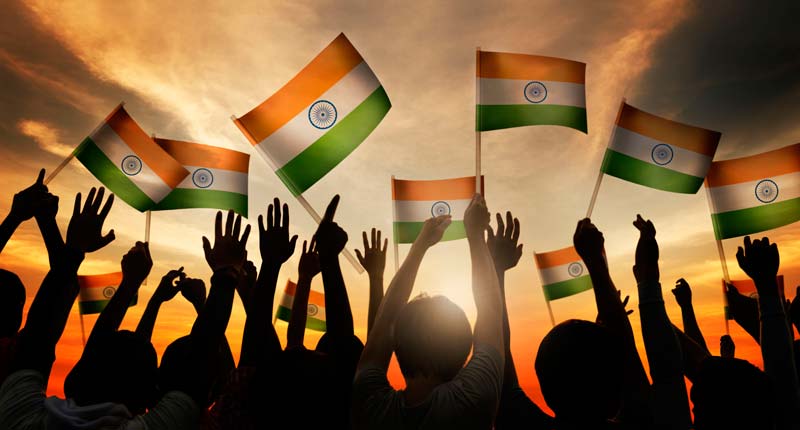 As the country is preparing to celebrate its 70th Republic Day, ALFONSO ELENGIKAL, Chief Editor of THE TEENAGER TODAY, reflects with the readers on what makes our Bharat truly 'Mahan'.
During one of my visits to the U.S., I came across an Irish teenager in New York wearing a T-shirt with the words, 'Made in U.S.A. with Irish Parts', printed on it. I was quite amused, and I couldn't help smiling whenever the teen's picture flashed through my mind!
But looking back, I must say that I really admire the teenager and his spirit of patriotism. In youth's own idiom, and in his own humorous way, the youngster was trying to say forcefully that he was proud of his 'Irish' origin and parentage, that he was proud to be 'Irish' in spite of the fact that he was residing in a far more affluent country (the U.S.) than Ireland.
While visiting the U.S. and a few of the European countries, I often looked out for similar sentiments of patriotism among Indians there. My experience was that the Indians abroad, by and large, preferred to hide, if they could, the fact that they were Indians!
One thing I know, moreover, is that we Indians are far less patriotic compared to westerners. That is one of the reasons why the country remains what it is today, even after 71 years of independence and democracy, in spite of all the human and natural resources that India is blessed with.
I have drawn a lot of inspiration from the following words of John F. Kennedy, former President of the United States of America: "Ask not what your country can do for you, but what you can do for your country". Many of my young friends often asked me, "What can I do that will make a difference in a country of such magnitude?" Here are some of the suggestions that I made to them, and I think it is worthwhile recalling them here:
Be well-informed about our country, its past, present, its rich traditions, its unique cultural milieu and all those distinct features that go to make Bharat really 'Mahan'. Many of our young people are not well informed about the country, and they often tend to believe what their peers and the media make them believe, and are inclined to think that it is greener on the other side of the fence.
Do your bit in educating our people and not merely making them "literates". Literacy and education are not synonymous, and what the country needs today are youth who know the difference, and can help others to be educated and well-informed citizens of the country. This process should begin in our own homes, schools, colleges and other circles we move in. With education comes also true civic sense, which is sadly missing even in our major cities. Educating people means also helping them get rid of superstitious beliefs that stifle growth. Educating people is a powerful weapon in eradicating poverty, too.
Support secularism and fight communalism in your own small way, wherever and whenever you can. Casteism and religious intolerance have done untold harm to the nation and continue to threaten the very foundation of the secular fabric of India. The youth of the country need to wake up and save the motherland from falling apart by strengthening its secular fabric, once again.
Ours is a secular nation with a Constitution that protects the citizens' right to freedom of expression and beliefs, which includes the freedom of propagating one's beliefs through lawful means. When this is done through force or other unlawful means, there are laws of the country to bring such individuals to book. What is happening in the country today, instead, is each one taking the law into one's hands and doing what one pleases with others, instead of proving false the accusations levelled against innocent people! This is definitely wrong and needs to be condemned in the strongest possible terms by all law-abiding citizens. Equally dangerous are the social evils like dowry, child marriage, female infanticide, etc., that need to be fought!
Use your voting right responsibly. As the voting age has been lowered to 18, many of "you" will be casting your vote for the first time in the forthcoming general/assembly elections. Know the different candidates in your constituency well, and elect only the ones you think will serve best the interests of the country. Where needed, help others in this process. Too many criminals and lawless men enter the sacred precincts of our Parliament and State Assemblies due to irresponsible use of our franchise.
Finally, spare a thought for our soldiers who fight to safeguard the integrity of the nation and its borders, risking their own lives. When not fighting, they are actively involved in various developmental activities across the country. They and their families must be kept close to our hearts, throughout. This is one of the best ways of expressing our patriotism.
National holidays like Independence Day, Republic Day, etc., provide us every year with a beautiful opportunity to express our pride in being Indian, to reiterate our belief in Iqbal's verse: Saare Jahan Se Achcha Hindustan Hamaara…! and to assume the responsibility of making our motherland more glorious than what she is today!
Latest posts by Alfonso Elengikal
(see all)